Now, all the Bushiroad members are back in cold Tokyo, but our office in somehow very hot...
It is just opposite from Singapore, where it is hot outside and cold inside.
Well, as I have been working on the AFA09 report for our company today, I would also like to share some more pictures from the event.
Let's start with the ones from our preparation day!
AFA boy saying "Mou Ikkai! Once again!"
I wonder what his real name is...
It says here the exhibition lasts till 9 in the evening, but in Japan, Komike, Game Show and most of the other hobby events close around 5 p.m.
Appearance of Suntec Hall
Bushiroad booth still in preparation.
It was out first time to join a exhibition in Singapore, but the staffs from Genesis Frontier/ The Card Geeks planned and worked hard to meet or requests.
Finished! (Mostly)
Showcase for the retail.
Long awaited Fate hollow/ataraxia could not be prepared in time for AFA09, but we put the poster to promote the new product.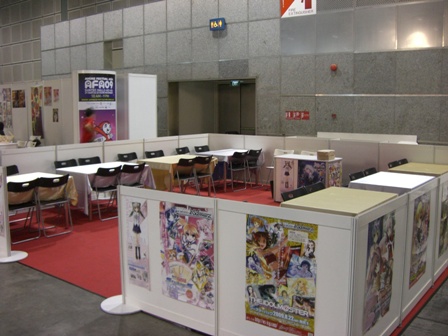 Empty playing space.
(In Japan, we call it "Duel Space")
Special Event Stage for AFA09 guests!