【Bushiroad Sleeve Collection Vol.23~Vol.26】
The 6th Edition of Bushiroad Sleeve Collection is going to be released on 28th this month!
This time, "Suzumiya Haruhi no Yuutsu"is joinig the collection for the first time, and it surely matches Haruhi Starter which will be on sale from 21st.
・Vol.23 魔法少女リリカルなのはStrikerS 「八神 はやて」
Magical Girl Nanoha StrikerS "Yagami Hayate"
・Vol.24 魔法少女リリカルなのはStrikerS 「リィンフォースII」
Magical Girl Lylical Nanoha StrikerS "ReinforceII"
・Vol.25 涼宮ハルヒの憂鬱 「長門 有希」
Suzumiya Haruhi no Yuutsu "Nagato Yuki"
・Vol.26 FORTUNE ARTERIAL 「悠木 陽菜」
"Yuuki Hina"
Each Sleeve Clollection is followed with a PR Card(Weiß Schwartz)/ Partner Card(ChaosTCG).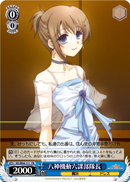 ★Vol.23、24封入 NS/W04-111
八神機動六課部隊長
(Hologram ver.)
★Vol.25封入 SY/W08-106
ウェディングドレスの長門
★Vol.26封入 AU-069P
幼馴染の世話焼き妹「悠木 陽菜」
【Product Info】
60 Sleeves plus one PR/ Patner Card
735 yen
(C)なのはStrikerS PROJECT (C)なのはStrikerS PROJECT (C)AUGUST