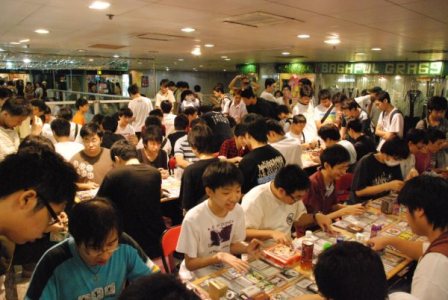 The 1st WS event by 通用 and team WS, including workshop was held in Hong Kong on 20th September.
We would like to introduce you their report!
[Date and time]: 20/09/2009, 12:30-18:00
[Shop Name]: General (Far East) Trading Company A59, G/F, Tsuen Fung Centre, 144 Castle Peak Road, N.T., Hong Kong
[Place]: Exhibition area on 2/F, Tsuen Fung Centre, 144 Castle Peak Road, N.T., Hong Kong
[Tel]: +852-2493-2660
[Host]: 通用 (General Trading Company) (Event area supplier and goods seller);
HKWS Team (Event planner and organizing party)
Dicken, one of the hosts told us 30 people were waiting already 30 minutes before the opening time, and as many as 72 people, including 40 biginners came to join the event.
Also, Ifrict, also one of the hosts tokd us that in no time after the opening, almost all the seats preapred were taken, and the teaching session area was always overloaded with the new players.
Teaching Session for the biginners
Lucky Draw
Retail Space
We were really glad to see that the event has attaracted so many new players, and would like to thank you to all the 15 members who helped out the event, and the players who made time for playing WS.
(thank you for the excellent report, Ifrict!)
We would like to support WS events in Hong Kong further, and hope to see more ans more new players in future.