From 31st July to 3rd August, 2 of our staffs visited HongKong for business.
This time's purpose was,
-Market research in Hong Kong
-Visit to Ani-Com, one of the biggest anime/comic vent in Asia.
Fist if all, we went to American Sportwear Trading, the shop which has a play space for TCG.
The shopowner Mr. Ko supports us for introducing WS in Hong Kong, and his friends Sam and LP help him with the events.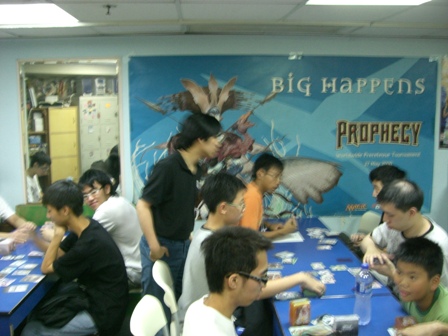 WS tournament at playing space!
The Champion had a chance to play with Ishii, our local sales manager.
7月31日から8月3日まで香港に出張に行ってきました。
2名です。
今回の目的は、現地の市場調査とビジネスミーティング、そして香港最大のアニメコミックイベントであるAni-Comの見学です。
香港の暑さは東京をはるかにしのいでいました。
まずはいつも香港でWSのPRを熱心にしてくださっているAmerican Sportwear Trading へ。
Koさんと、サポーターであり通訳もしてくださるSamさん、LPさんは本当に親切で、ホスピタリティあふれる方々です。
WSの大会は20名(Ani-Comがあったため少し少なめだったようです)ほどが参加し、皆さん大変楽しそうにプレイされていました。
なんと、日本語のままです!!
そのあと、チャンピオンは我らが営業の石井とプレイを。
石井の辛勝?でした。
日本語が話せるプレーヤーからは、「ぎりぎりで勝った!」と言われていました・・・