From Thursday 16th to Sunday 19th, Bushiroad exhibited at Tokyo Toy Show 2009 held at one of the biggest exhibition hall in Tokyo, "Tokyo Big Site."
Locatig at the bay side, it is just next the Rainbow-Bridge, from which you can enjoy great night view of skyscrapers.
The building is amazing (diamond-shaped), but I know I am not a good photographer...
Bushiroad booth!
Our WS booth was espesially featuring "The Idol M@ster," "Sengoku BASARA," and "The King of Fighters."
Chaos booth featuring "Shin Koihime musou."
Sunday VS Magazine booth feeaturing "Detective Connan" and "Kindaich."
Alice×Crosse booth.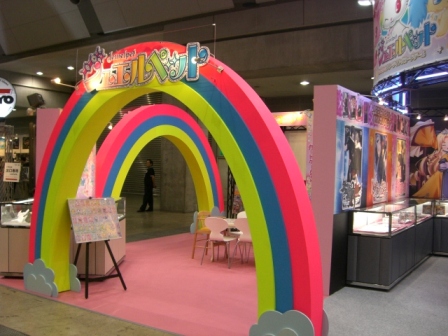 "Jewel Pet" TCG booth for kids.
Hall image.
The 4-days-runnig events had a lot of visiters, from business people to families.
People from all over the world visited our booth, and many played our TCG at the playing space.
We are also planning to exhibit at"Comic Market 2009 Summer," which is the biggest comic event in Japan (held also at "Tokyo Big Site").
If you are visiting during summer holiday, we reccomend you to visit the event!